2016 Soaring Eagle Scholarship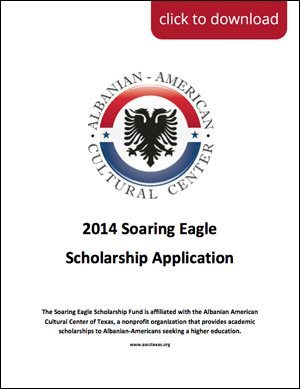 Click here to download the application. The application and supporting documents must be emailed to docvranici@hotmail.com or mailed to Soaring Eagle Scholarship, 2808 Cabot Lane, McKinney, TX 75070  on or before January 31, 2016. There is no application fee for this scholarship.
Notification
Scholarships will be awarded on February 21, 2016. Funds will be disbursed directly to the university.
General Requirements
Completed application and essay
Transcript from most recent school attended
Albanian ethnicity
Any student attending or planning to attend an accredited four-year university. Full time enrollment (12 or more credit hours) for the Fall and Spring semester.
Minimum 3.0 cumulative grade point average
Questions?